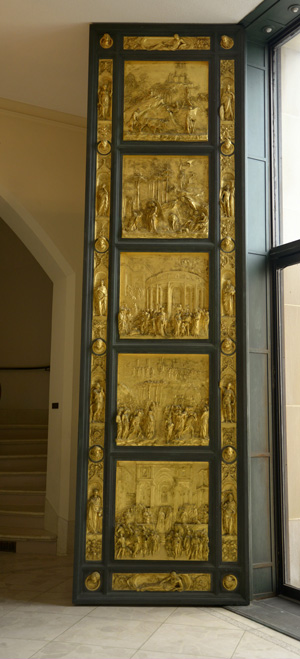 I 
 n the heart of Florence, Italy, stand the world famous multi-colored, marble‑covered Duomo or Cathedral of San Giovanni Battista, its Campanile and its Baptistery. The Baptistery was originally the main Cathedral having been completed in 1150. Long after it became the Baptistery, continuous effort was made by its maintenance guild, the Arte di Calimala, to give it worthy decoration. By 1338 the south portal had a pair of magnificent bronze doors depicting scenes from the Bible.At the turn of the fifteen century, the Calimala announced a contest for companion doors for the East portal accenting Old Testament narratives. The subject for the trial piece was the Sacrifice of Isaac. After bitter competition involving no less a rival than Brunelleschi, Lorenzo Ghiberti was declared the winner. He was the youngest contestant.The guild changed its mind and decided that Ghiberti should execute a door based on the New Testament. This first door of twenty-eight panels was finished and hung on April 9, 1424.The Calimala was so impressed that Ghiberti was commissioned to execute another door based on Old Testament scenes. It resulted in the present East Doors.  Tradition has it that Michelangelo, stunned by their beauty, christened them the
Gates of Paradise
which name they retain to this day. Ghiberti considered them the crowning achievement of his life and the foundry where they were cast became known simply as
le Porte
. The two pairs of doors (north and east), to which Lorenzo Ghiberti devoted fifty years of his life, are important not only for the exquisite handling of relief and mastery of composition, but also for the training ground they furnished for some of the most significant artists of the time.Now at last the most illustrious building of Florence was suitably adorned and its immortality assured. On July 13, 1452, the
Gates of Paradise
were in place for all the world to view in wonder.The Doors of Paradise are considered by many authorities to be the first and greatest masterpiece of Italian Renaissance bronze-work.Depicting biblical stories from the Old Testament, the scenes are shown in Tuscan settings. Ghiberti was the first of his time to make use on such a grant scale of two major innovations, graded relief and linear perspective.
In the door frames flanking the panels are statuettes and portrait heads separated by floral decoration. They represent Old Testament prophets and heroes whose prophecies or deeds parallel or comment on, scenes in the adjacent panels. Only ten of the statuettes and four of the heads are clearly identified. The statuettes are outstanding in their naturalism and realism, each one worthy to stand on its own. The heads, almost busts, alternate with the statuettes, in circular frames or tondi. Most younger heads are toward the top, while heads bearing turbans suggest oriental references. A few heads are clearly related to adjacent panels, and it is likely that most are so intended, with the probable exception of the Ghiberti family portraits. Decorative "Arabic" lettering on collars is not translatable. The floral decoration is also notable, and retains the beauty and attention to detail found everywhere else on the doors.
In 1943 the Nazi command in Italy ordered the evacuation of portable art works from Florence, despite its status as a "safe city". Reichsminister Goering apparently coveted the doors and other treasures for his personal collection, but the doors were hidden in a railway tunnel south of Florence until liberation in 1944. Under the care of Bruno Bearzi, official consultant and caretaker of Florence's art works, the doors were cleaned and he proposed to make a copy to take their place and put the originals in a museum. That did not happen, but the molds had been made so eventually he could make a copy.
The replica of Lorenzo Ghiberti's Gates of Paradise produced from the molds by Bruno Bearzi of Florence, Italy, hang at the entrance to Trinity Lutheran Church in Hicksville, NY.
The doors are made entirely of bronze, a metal alloy of 90% copper and 10% tin. The sculptured portions are finished in gold. All of these portions were created using the "lost wax" method known from ancient times.
Each door is about 16 feet high, 4 inches thick and 5 feet wide.  Each door weights about 2,550 pounds and each panel is 30 inches square.
The Gates of Paradise were a gift in loving memory of Katharine M. and Kenneth D., the wife and son of George C. Karlson.
Trinity Lutheran Church is the oldest congregation in Hicksville, New York, dating back to 1850.